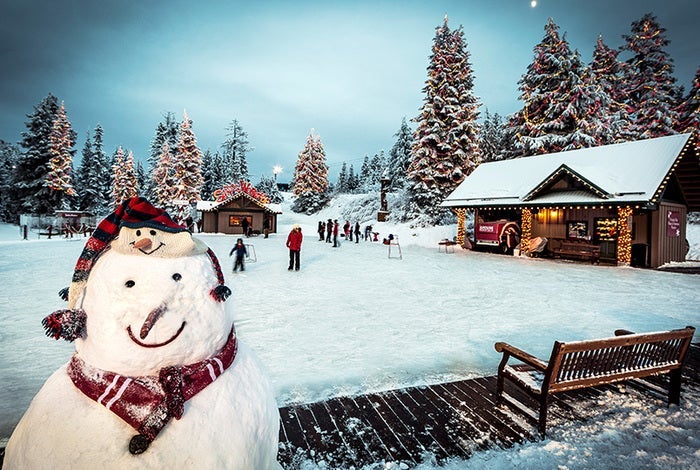 The lights are up and Christmas activities are in full swing on the North Shore. Don't miss the many festivals that bring our community together and check out how you can help families in need.
Peak of Christmas
Grouse Mountain hosts the
Peak of Christmas
, which includes outdoor skating, sleigh rides, gingerbread house displays, holiday movies and more
.
It is one of the North Shore's family favourite activities and Santa Claus is considered one of the best of the season (by many local moms).
In 2018 the Peak of Christmas starts on Friday, November 23, and continues until January 6, 2019.
Pipe Shop at The Shipyards
The Pipe Shop hosts many holiday markets during the month of December.

December 8 & 9 | 11am to 5pm

Fall for Local Holiday Market: high quality modern pop-up featuring independent brands. Over 95 vendors, do-it-yourself mini-wreath workshops, food trucks and more. Tickets $3 online and $5 at the door (cash only).  Free for kids 12 and under.
December 15 from 10am – 6pm & December 16 from 10am - 5pm
Shipyards Christmas Market: over 50 local vendors. Free admission
Dundarave Festival of Lights
December 1, 2018 – December 22, 2018 
The annual Dundarave Festival of Lights kicks off with a Christmas tree decorating beach party on December 1. On the four Saturdays leading up to Christmas, stop by for an afternoon of free concerts to spark your Christmas spirit. The official lighting of the Festival's Christmas tree forest takes place at dusk. The Christmas trees will remain on display until after the New Year.
Dundarave Nativity & Paddle Songs
December 8 – Noon to Dusk
The
Dundarave Festival
brings you Christmas as you've never seen it before, fabulously festive and absolutely free in the Festival Longhouse and Nativity Pavilion.  Surrounded by a forest of Christmas trees, the only one like it in coastal British Columbia, you and everyone you love can connect with the bright spirit of the season as we approach the longest night of the year.  From the ground breaking music of local songwriters to the ancient songs the ancestors of the Squamish Elders sang on these shores for thousands of generations, the Dundarave Nativity & Paddle Songs brings you a loving Christmas.
December 15 – Noon to Dusk
The World Christmas, unique to the Dundarave Festival of Lights, celebrates the richness of Canada's cultural diversity.  From the Francophone roots of our country, to the heat of Mariachi and foot stomping Celtic chords, the World Christmas brings you the season as you may have never seen it before.  Set in our bright forest of Christmas trees, this afternoon of fabulously festive and absolutely free concerts speaks to the true spirit Christmas: a season of mirth, music and joy that leaves no one out in the cold.  Watch this space for a taste of what you'll find.


Christmas Wassail & Bonfire
December 22 – Noon to Dusk
From the first Christmas in West Vancouver to this season of the Dundarave Festival of Lights, bonfires have burned bright on our beaches to ward off the longest nights of the year and gather together our community in a spirit of friendship.  This night, crowned by a bonfire presented as it has for generations by the District of West Vancouver, is the ultimate night in the Festival's season. 
Carol Ships Shoreside Celebration
Saturday, Dec 15, 2018
7:30pm - 9:00pm
On Saturday, December 15 from 7:30 to 9:00 pm, visit Deep Cove and join us at Panorama Park to watch the Carol Ships sail by. Enjoy a warm and festive evening filled with musical entertainment, roving performers, free craft workshops, a blazing bonfire and beautiful lights.  Santa himself may even stop by!


Spreading the Holiday Cheer
Family Services North Shore
focuses on helping low-income North Shore families
with children 18 years or younger, seniors, people with disabilities and those living in isolation. Local families and individuals celebrate the holidays thanks to community members who provide Christmas hampers filled with grocery gift cards, gifts and toys.
You can make a financial donation or an In-Kind Donation.
Gifts for Tweens and Teens are one of greatest need: movie passes, $20 gift cards for restaurants/retail stores, sports equipment, electronics, books, PJs, robes, make-up, bath products and art supplies, brand name hoodies, local sports team gear, cozy blankets.