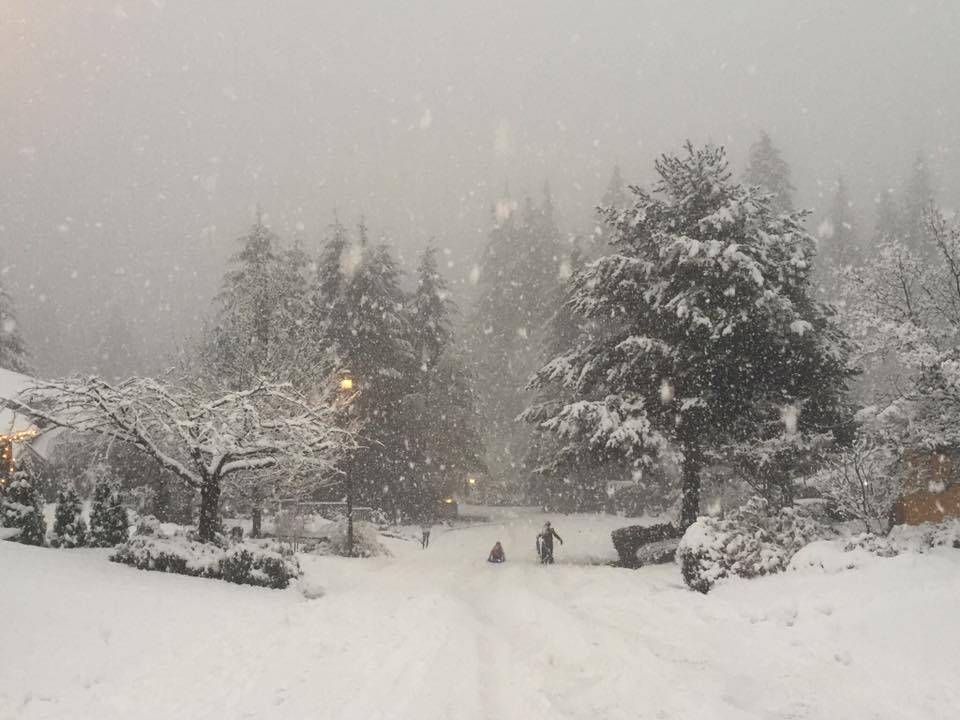 According to the U. S. National Weather Service's climate prediction centre says there is a 65-75% chance that conditions will lead to another snowy winter in the west coast of North America. Last week we got a little taste of what is coming. The weather is not perfect right now, but there is still time to prepare for what may be in the cards for the North Shore's residents.   The following are a few reminders on how to prepare for winter for those living in single-family homes:
"Hey Greg, I live in a condo.

"
Awesome! The strata fees you pay monthly have you covered. You don't need to worry about shovelling snow or restocking winter essentials, this is your strata's job. Having said that, have you stored or protected your patio furniture for the winter?  
Restock weather essentials
If there was a lesson from last winter that we needed to learn (or remember) is this: don't wait for the first storm of the season to restock cold-weather essentials such as salt and ecofriendly de-icer. Last winter, salt was out-of-stock in many of our local stores and those that had it, had to put a limit on how many bags clients could buy. Probably the store retailers also learned their lesson, but don't find yourself salt-less this winter. If you don't want to (or can't) shovel snow, now is the time to hire a snow removal service. Remember that in the City of North Vancouver and District of West Vancouver, you are required to clear snow or ice and salt sidewalks and footpaths around your single-family home. The District of North Vancouver does not require single-family property owners to clear their sidewalks, but encourages them to do so.
Important Sources:
City Of North Vancouver Snow Warning Page
District of North Vancouver Snow Removal Updates
District of West Vancouver Snow Safety

Tune up your heating system
By now you probably have the furnace on. However, make sure to change your furnace filter and, if you haven't done it recently, have a technician service it to make sure the system is in good working condition and achieving its manufacturer-rated efficiency. The technician will also measure for carbon-monoxide leakage, which is essential for your family's safety. Also, having a tune up now means you will avoid being the last one in line for repairs on the coldest day of the year.
Improve the heating efficiency of your home
Pressure-test your home to make sure heat is not escaping. To detect any air leaks in your home that might otherwise be hard to find, a technician will install a temporary fan and seal in your doorway. Pressure testing helps people save money on their heating bill. You can also check both the provincial and federal government grants on window replacement and new, efficient hot water tanks and furnaces. For more info go to
BC Hydro
and
FortisBC.

Clean the Gutters

If you haven't done it already, clean the gutters. You can hire someone to do it for you and avoid more expenses later. Keep in mind that debris might have clogged the gutter system, which could result in water backing up against the house and potentially damaging the roof.  It can be tricky to determine if the gutters need to be repaired and many times it is not until there is problem that people seek help.

Inspect your driveway
Check your driveway for cracks. Damage for asphalt happens in the winter, when the moisture enters the cracks and can freeze. To avoid any damage, right now is the time to fill the cracks and seal the driveway. This will also protect the curve appeal of your home.


Is your house ready for winter? Here's a checklist:
Turn off water to exterior taps to prevent frozen pipes
Keep some rock salt in the garage for driveways and pathways
Change your furnace filter
Replace burnt out exterior lights
Replace worn door and window weather stripping
Clean gutters
Replace batteries in flash lights
Clean chimney flue
Clean clothes dryer hoses and vents
Keep mats at doorways to protect flooring